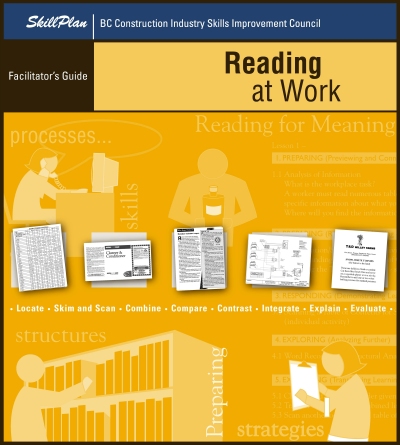 In almost every occupation in Canada, workers read for two or more hours a day.
Reading at Work illustrates how the Essential Skills of reading text and document use are applied in the workplace. Reading at Work Workplace Reader uses authentic workplace documents and real-life stories of workers on the job to form the basis of learning activities.
Lesson activities in the Facilitator's Guide help the instructor introduce and expand on topics in the Workplace Reader, providing learning strategies, suggestions for further activities, and additional source documents.
Reading at Work will enable instructors and trainers from the fields of adult/workplace education, literacy, and employment counseling, to focus on the information processing structure and strategies that lead to increased learner success and worker competency.
Reading at Work is the latest publication in our Essential Skills At Work series.
Price: $98.00 *
[* 10% discount on 10 or more copies $88.20 each]
GST, shipping & handling charges extra
Format: 3 ring binder, 410 pages
ISBN: 0-9739232-1-0