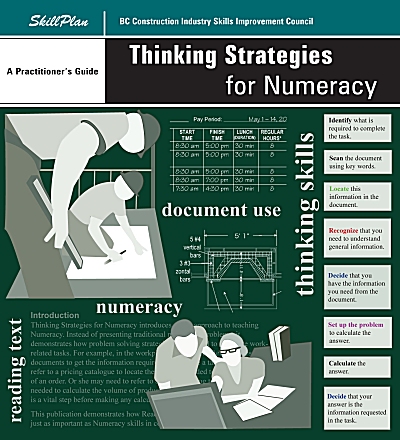 Thinking Strategies for Numeracy teaches thinking strategies that can be applied to workplace Numeracy tasks. The thinking strategies presented here are taught, demonstrated and given a language that learners can apply to workplace tasks that involve numbers, text and documents.

This publication addresses translation, which is one component of Numeracy. Translation is the cognitive process that turns a work problem into a set of mathematical operations for the purpose of completing a task. It is the step that comes before calculations can be made. This translation process requires Thinking, Reading Text and Document Use skills in addition to Numeracy skills, all of which are addressed in this resource.
This publication is designed to be instructor led. Each section features several tasks with detailed steps on how to get to the answer. These detailed steps in the Guided Practice reinforce the strategies for finding the answer. When learners are confident about applying these strategies, they can move on to the Additional Practice tasks.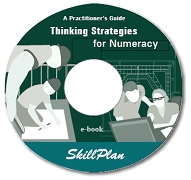 The accompanying e-book is intended as a visual teaching aid for practitioners. It can be used to guide learners through selected examples from each section of the publication. The e-book presents the strategies step by step and in colour, enabling practitioners to teach, review, skip or select steps in the problem solving process.

Price: $89.00 *
[* 10% discount on 10 or more copies $80.10 each]
GST, shipping & handling charges extra
Format: 3-Ring Binder, 380 Pages
ISBN: 978-1-926584-00-3